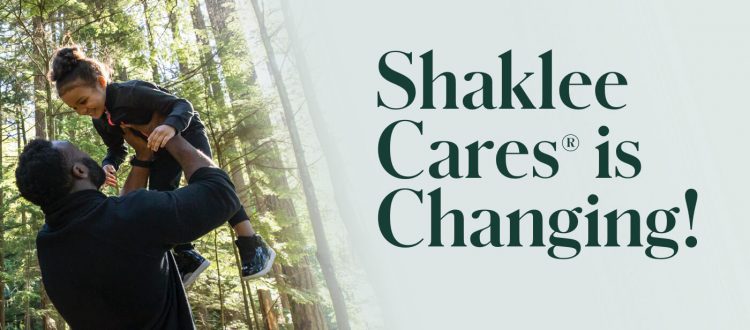 Shaklee Cares® is Changing!

We're excited to announce that after nearly 30 years of supporting those impacted by natural disasters, we're evolving Shaklee Cares to better align with our mission of bringing true wellness to the world.
The renewed commitment of Shaklee Cares will focus on the nutritional and environmental health of people and planet. Our goal is to invest in a healthier future for the next generation.
Shaklee Cares Web Site:The web site at go.shaklee.com/shaklee-cares will be taken down, replaced by compelling content outlining the Shaklee Cares mission on our Shaklee.com web site. A link to Shaklee Cares content will also be located in the footer of the US web site .
PayPal:The ability to make tax-deductible donations through PayPal will pause until 2022. You can still make a tax-deductible donation to Shaklee Cares by check: Shaklee Cares, 4747 Willow Road, Pleasanton, CA 94588.
Shaklee Cares Product Pack Donations:Over the next year, Shaklee Cares will be donating $500,000 of product packs to Feed the Children and Feed the Hungry. You can continue to purchase existing Product Packs through the end of the year on our web site at: https://us.shaklee.com/More-Category/Shaklee-Cares/c/800. In 2022, these will be replaced with the Meal & Snack Bar pack referenced above.
Disaster Relief:Applications and requests for individual grants and disaster recovery packs will no longer be accepted, starting 11/11/21. Instead, our grants and donations going forward will be made to charitable partners that further our commitment to the health of people and planet.
What is Shaklee Cares and what is its mission?
Shaklee Cares is a publicly supported, 501(c)(3) nonprofit, tax-exempt organization committed to creating a healthier future by investing in nutritional and environmental health for the next generation.
What kind of impact will we be able to make through Shaklee Cares?
Shaklee Cares has made an enormous impact over the years and continues to make strides in making a healthier future for all. So far, over 2,075,700+ trees have been planted, sequestering carbon emissions, supporting wildlife, and offsetting environmental impacts. Additionally, over 60,000 children have been provided with life-changing nutrition, and we're just getting started.
Can I still make donations to Shaklee Cares Grant Fund?
Yes, the Shaklee Cares Grant Fund is still available for you to make monetary donations. Beginning November 11th, the Grant Fund will no longer focus on individual natural disaster relief grants. Instead, Shaklee Cares Grant funds will be utilized to support partnership initiatives with other non-profit partners that are aligned with the Shaklee Cares mission of healthy people, and healthy planet.
Donations to the grant fund can be made via check mailed to: Shaklee Cares 4747 Willow Road, Pleasanton, CA 94588.
Will the Grant application program still be available? 
The existing Shaklee Cares Grant program was designed to support those that require relief and recovery assistance from natural disasters. As Shaklee Cares transitions, the grant funds raised will be utilized to support the partnerships and initiatives that are aligned with Shaklee Cares' mission dedicated to healthier future generations and that you, our Shaklee Family, have voted on at Global Conference. This will expand Shaklee Cares' reach and better support our overall mission.
Can I still purchase Shaklee Cares product packs?
Yes, for the time being you will still be able to purchase the existing Shaklee Cares Product Packs. A new product pack is in the works and will replace the existing Shaklee Cares product packs. This new pack will be better suited to the needs of charities we are partnering with.
When will the Shaklee Cares website change? 
Starting on November 11th, a new Shaklee Cares marketing page will be live at https://us.shaklee.com/shakleecares (U.S. only)
Why did we choose Vitamin Angels as one of our philanthropic partners?
Vitamin Angels' mission is closely aligned with Shaklee Cares of making healthy happen for future generations.
Vitamin Angels focuses on the reduction of preventable morbidity, (including blindness), and mortality associated with micronutrient deficiencies among children under five years of age through the distribution of the specific products (manufactured to internationally accepted technical and finished product specifications) and services free of charge.
Vitamin Angels also provides technical assistance, with emphasis on the training needed to ensure that micronutrient supplies are deployed by our field partners appropriately and consistent with best practices adapted to local conditions.
Watch this 2 minute video to learn more.
What are the essential nutrients provided by Vitamin Angels to the kids they serve and why?  
Vitamin Angels' primary intervention for children is vitamin A supplementation: Vitamin A supplementation is recommended by the World Health Organization for universal distribution among children 6-59 months of age in settings where vitamin A deficiency is a public health problem. Vitamin A supports healthy immune systems, promotes physical growth, prevents blindness, helps mitigate the incidence of measles, and can reduce under-5 mortality by up to 24%.
Vitamin A deficiency is a leading cause of preventable blindness in children.
An estimated 190 million children are affected by vitamin A deficiency.
About 30% of children, mainly in lower-income countries, experience vitamin A deficiency.
As many as half a million children go blind every year as a result of vitamin A deficiency.
Vitamin A supplementation can prevent blindness and reduces child mortality by up to 24%
Why did Shaklee decide to offer a give back program?
88% of consumers would buy a product from a purpose-driven company
77% of consumers feel a stronger emotional connection to a purpose-driven company
10x many purpose-driven companies are growing faster than non-purpose driven companies.
Can we get a tax deduction on the one-to-one donation that is made from our purchase? 
No. Tax deductions are only available when donations are made directly to registered 501c3 charities. Meology Kids and Get Clean Starter Kits are available for purchase from Shaklee Corporation, which is not a registered non-profit.  Shaklee Corporation in turn, donates the funds to our partner charities.
What can I say to my customers about how Shaklee is partnering with Vitamin Angels? 
With each box of Meology Kids sold, Shaklee will make a 1-to-1 donation to Vitamin Angels.
For each purchase of Meology Kids, Shaklee donates to Vitamin Angels to provide life-changing nutritional support to a child in need.
More detailed/technical information can be found at www.vitaminangels.org/faqs
*All trademarks property of their respective holders.