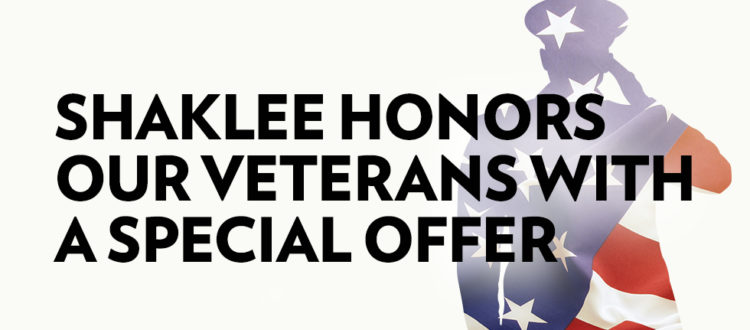 Shaklee honors our Veterans
We believe everyone has the right to thrive. And that includes the men and women who give so much of themselves every day to serve us and our country.
To honor our veterans, Shaklee offers a special Veterans Promotion of a free Ambassadorship (Ambassador Welcome Pack, $49.95 value) to veterans, including those in active military service, to thank and honor them for their service to our country. As a Shaklee Ambassadors you'll get a simple, proven system for sharing our products and the resources you need to prove you can make a living out of being living proof.
There is no expiration date for this offer at this time. Please contact us at 1-800-SHAKLEE (1-800-742-5533) to redeem this offer. Tell the Customer Support representative right away that you are taking advantage of the Veterans Promotion, and be prepared to provide the full name, branch of service and dates of service of the service member. Shaklee will use available tools to verify service and provide you on the call with a promotion code, valid for a free Business Starter Kit ($49.95 value).
Please be aware of policies regarding operation of a Shaklee business on military bases. It's required that a Shaklee Ambassador seek and obtain the written permission of their base commander before beginning to operate a Shaklee business on base.
This offer is not transferable to other Ambassador offers or kits. This offer is valid in the U.S. and Canada. Not available online.
We are so thrilled to hear about how our Shaklee Family is using this special offer to build their business and help those in our military to do the same. Check it out…
Julie Curtis, Senior Director, OH
"My daughter who is a business builder herself and also is in the Air Force got the special for her boyfriend who is also Air Force.  He is spreading the word about Shaklee to his family and friends in Puerto Rico.  Also my daughter just sent in proof of military employment for another Airman last week.  It's a great thank you to our current military and veterans!"
Reid Bryce Robbins, Associate, MN
"I've been using this offer as an opening to talk with people.  I say, 'Were you or your spouse in the military by any chance? Shaklee is currently offering free Ambassadorships for military and Veterans.' I also have suggested members who are Veterans upgrade to Ambassadors.  One of my longtime Members upgraded via the Veterans program and his group volume is already around 500 per month.  He is very excited about the business."
Offer available to military veterans and active military members in the US and Canada. New Ambassadors and existing Members upgrading to Ambassador are eligible for this offer.
Call 1-800-Shaklee to redeem this offer.
Be prepared to provide the full name, branch of service and dates of service of the service member.
Shaklee will use available tools to verify service and provide you on the call with a promotion code, valid for a free Business Starter Kit ($49.95 value).
Each promotional code can only be redeemed once per Shaklee ID. The promotion code must be entered online during the checkout process at the time the veteran orders the Business Starter Kit.
The promotional code cannot be redeemed for cash or a product credit.
Shaklee reserves the right to change or cancel this offer at any time.
Q&A
Q:  Who can take advantage of this offer?
A:  Veterans, retired and active duty military personnel, including military spouses.
Q:  Can a current Member upgrade free with this offer?
A:  Yes.  Field Support needs to handle this redemption, but the existing Member can call 1-800-SHAKLEE (who will escalate to Field Support).  Alternatively, their upline Business Leader can call Shaklee Field Support at 1-925-734-3636 directly to request the free upgrade.
Q:  Can someone who takes advantage of this offer earn Prove It Bonuses?
A.  Yes. All Distributors are eligible to earn Prove It Bonuses. Be sure to encourage them to enroll in Direct Deposit, so that they can receive any bonuses they earn right away! To learn more about Prove It Bonuses, see the 2020-2021 Incentives Booklet.
Q:  If I share this with someone who qualifies and calls to take advantage of the offer would they become my downline distributor?
A:  Yes, they will be asked to name their sponsor. If you can, initiate this sponsorship as a 3-way call to 1-800-SHAKLEE. That way you can be present to ensure everything about the transaction goes smoothly.
Q:   Can the military personnel I sponsor operate a business on base? 
A:  Military personnel and their families may build a Shaklee business on-base, provided that they have the written permission of their Commanding Officer. Once approval is granted, military personnel must mail or fax a copy of the approval letter to Shaklee Field Support at 1-925-924-3888. The no sponsoring activity flag will be removed only if Shaklee receives a letter granting approval from the Military. Otherwise, this restriction will remain in place. Shaklee allows shipments to military personnel stationed overseas with APO/FPO (overseas military) addresses via the Shaklee Order Entry system. You can also sponsor new Members with an APO/FPO address.
Certain requirements for Shaklee shipments must be met in order to conform to military regulations when shipping to a military base (This is not a condition of this offer, this only applies to military base shipments):
All orders must have a valid name and military address (APO/FPO)
Orders must ship via USPS Parcel Post only.
No sponsoring activity may take place on military bases unless you have received approval and we have received a copy of the letter.
If the military base is outside of the US and its territories, then product may only be distributed on-base.