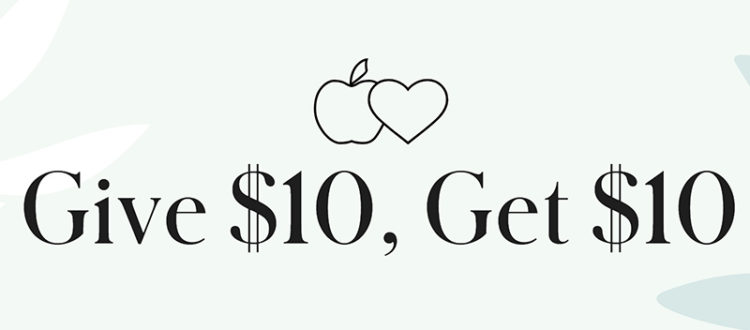 Reward your greatest fans – your loyal Members – with our new Member Referral Program.

When one of your Members shares a $10 off coupon with a NEW customer, and that new customer places an order with you of $100 or more, we'll reward your Member with a coupon for $10 off his or her next order of $100 or more!
HOW IT WORKS
Members share their unique Refer a Friend link with their networks. This link is accessible at the top of any page at ca.shaklee.com or via the "Refer a Friend" link in the footer at ca.shaklee.com.
Every NEW customer/Member that an existing Member introduces to Shaklee will receive a $10 off promo code to use on his or her first Shaklee purchase of $100 or more (excluding taxes and order charges). The promo code will expire 30 days from the date of issue.
Once that order is placed, your Member earns a promotion code for $10 off his or her next order of $100 or more.
If the referred friend has previously purchased on ca.shaklee.com or is joining as an Ambassador, the referred friend will not qualify for the offer.
There's no limit to the number of $10 off promotion codes your Member can earn.
HOW DOES MY MEMBER REDEEM THE $10 PROMOTION CODE?
Your Member will receive an e-mail with a promotion code for $10 off his or her qualifying purchase after that Member's friend makes a purchase from ca.shaklee.com and uses his or her unique promo code.
Your Member will then enter the code into the coupon/promo code box during checkout.
Only one promo code can be used per order.
Loyalty Orders (formerly "AutoShip orders") are excluded.
The promo code only applies to online purchases of $100 or more (excluding taxes and order charges).
The reward will expire 90 days from initial delivery to the registered e-mail address of the Referee
The reward is non-transferable and is only redeemable by the referring Member.
TERMS AND CONDITIONS
The Shaklee Refer a Friend Program ("Program") is valid for residents of Canada, the United States, and Puerto Rico.

This is a Member referral program. Ambassadors, Associates, and Business Leaders are excluded from direct participation in this Program.

Only one promo code can be used at a time, and each unique promo code can only be redeemed once.

No Program rewards will be given if the referred friend does not make an eligible Refer a Friend purchase of $100 or more on ca.shaklee.com.

Program rewards are subject to verification at Shaklee's sole discretion and only apply to online purchases made through ca.shaklee.com.

All taxes and order charges apply.

Terms, conditions, features, availability, service, and support options of the Shaklee Refer a Friend Program are subject to change without notice and at any time.

By participating in the Program, a participant agrees that he or she participates in the program at his or her own risk and, to the fullest extent permitted under federal law, in no event will Shaklee be liable for any direct, indirect, special, incidental, consequential, or any other type of damages related to or arising from the Program or participant's participation in the Program.

In the event a referred person returns a purchased item and his or her order value decreases below the minimum purchase amount, the referral promotion code awarded to the referring Member may be revoked.

Members may not refer anyone who has an existing ca.shaklee.com account under an alternate e-mail address.

The referring Member will be the Sponsor and Original Sponsor of the new guest or Member. Price Differential will be withheld on the first by the new Member or Guest when the promotion code is redeemed. Price Differential will not be affected on future orders.

The promo code cannot be applied to previous purchases and is not redeemable for cash.

Shaklee and its Program service providers reserve the right to delay, cancel, or revoke unique promotion codes in any suspected case of fraudulent use or misuse of Shaklee services or this Program.

Rewards are subject to verification at Shaklee's sole discretion. Any misuse of the Program by Ambassadors or Business Leaders is strictly prohibited.

Please note that this is an ongoing Program that is subject to end with or without notice.

All trademarks are the property of their respective owners.