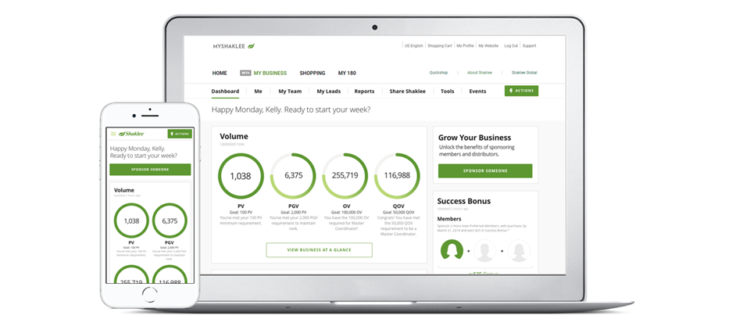 Manage Your Business with Shaklee Connect®
Manage and grow your business – on mobile and desktop – with these fast, fun, and flexible business tools now available in the Shaklee Connect / My Business tab!
Group Email – personalize and send targeted emails to your prospects, customers and team
Goals – input your personal short- and long-term goals, including your "Why"
Shaklee Weekly – track weekly activities in a fun and visual way
Watch List – add up to ten team members, those you are working closely with, to your dashboard
Other enhancements – predictive text in Team Search, and ability to add Follow Ups and Notes as you Add a Lead
And, you also have these cool features:
View a clean and easy to understand Dashboard of where your business is in real time.
Quick Actions allow you to add a note, a lead, or share a Shaklee Healthprint™ assessment, with just a single click.
Use Team Search to quickly search and view your team and leads, from one place.
Easily add Follow Up reminders and notes to help you stay on track with customer and prospect reach outs.
Meet someone out and about and want to send them a Shaklee video or other asset? Use Share Resources to send it quickly and check that task off your list.
Visit MyShaklee.com > My Business Tab, to begin using the new Shaklee Connect® Distributor tools today! 
Check the "How to Access New Features" video above, for tips on how to access from your mobile phone.