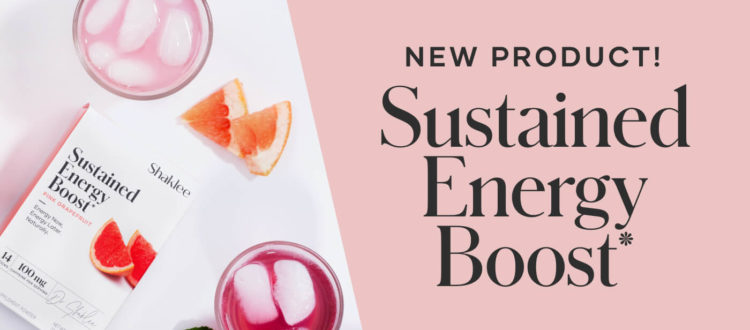 New Product: Sustained Energy Boost*

New Sustained Energy Boost* provides a boost of energy powered by caffeine from green coffee bean extract and green tea extract. Paired perfectly with chardonnay grape seed extract to support healthy circulation so you get the caffeine you need to keep you going.*†
Contains 100 mg caffeine from extracts of green coffee bean and green tea to boost your energy level.*

Paired perfectly with chardonnay grape seed extract to promote healthy circulation.*†

Our double-patented chardonnay grape seed extraction process has been shown in a pilot study to rapidly enhance circulation within 1 hour.*†

Healthy circulation is critical for the distribution of nutrients and caffeine throughout the body and brain.*†¹

On-the-go stick packs that easily dissolve in water. Perfect for a pre-workout drink or afternoon pick-me-up.

Available in both Pink Grapefruit and Raspberry flavors.

†Based on thermographic imaging results from a double-blind preliminary Shaklee employee-use pilot trial.
Jimenez, R., Duarte, J., Perez-Vizcaino, F. Epicatechin: endothelial function and blood pressure. J. Agric. Food Chem. 60:8823-8830, 2012.