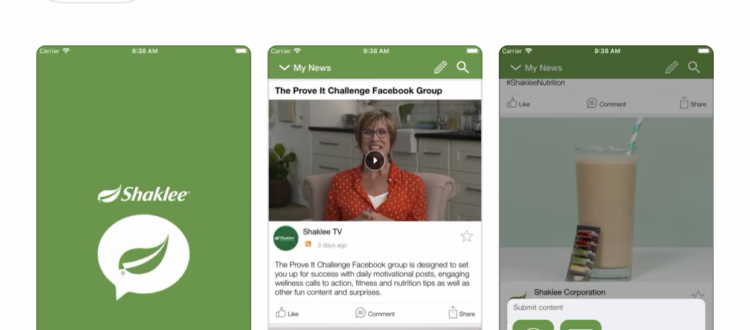 New Shaklee Social Mobile App
Share Shaklee-branded content to your favorite social networks – including Instagram® – via the new Share Shaklee Mobile App – available for iPhone® and Android®.*
Share Shaklee Branded Content – get the latest social content from Shaklee, including product imagery, promotions and lifestyle posts to share to your social networks. And Share Shaklee is up to date with the latest content from the @ShakleeHQ Instagram so you can easily share what you like to your networks!

Share to Instagram – Now share to Instagram® the fastest-growing social network in the world with over one billion active users.
Visit the App Store or the Google Play store and search for "shareshaklee" to download and use today!
Watch the video below to see how to download and use the new Share Shaklee mobile app.
BEFORE YOU START, YOU NEED TO HAVE:
Your Shaklee.com login and password.
You need to have already used Shaklee Social successfully on desktop
Have the mobile apps of the social networks you want to use on your phone – for example Facebook®, Twitter®, LinkedIn® and Instagram®
DOWNLOADING THE APP
Go to the App Store on iOS or the Google Play® store for Android®.
Use the search function to search for the App by name "shareshaklee."
Then use the Get/Install button to download the app.
Once downloaded, you'll see the app icon on your home screen.
Double-click the app.
The first time you use it, you'll need to login using your Shaklee.com login and password.
SHARING TIPS AND TRICKS: Sharing to Instagram
To share a post to the social network of your choice, use the share icon and you'll see a few choices, including Instagram.
Of note, when you first share to Instagram, you'll see a dialog box that asks you to connect your app to Instagram.
As long as the Instagram app is already on your phone, this step is not necessary. Simply use the toggle button to select "do not show me this again."
Then click on the link that says, "share on Instagram."
You'll then have an opportunity to share on your news feed or your IG stories.
SHARING TIPS AND TRICKS: Sharing to Other Social Platforms
If you're using Facebook®, LinkedIn® or Twitter®, you'll not only need the mobile app for the social platform on your phone, but you'll also need to have your Facebook, LinkedIn and Twitter accounts connected to your Shaklee Social Account.
The good news? You connect your accounts on mobile the same way that you would on desktop, by using the hamburger menu at the bottom right corner and clicking on My Account.
What if I forgot my email and/or password for Shaklee.com?
If you have forgotten your password, use the forgot password link on Shaklee.com.
If you have forgotten your email address please call 1-800-742-5533(Mon-Fri, 6am to 7pm Pacific | Saturday, 7am – 4pm Pacific) or email login@shaklee.com.
Can I get to the Share Shaklee mobile app from Shaklee.com?
From your web browser on your mobile device, go to My Business>Share Shaklee>Shaklee Social.
You'll then see a screen that offers you the opportunity to download the mobile app from the App Store for iOS or Google Play store for Android.
I'm using Shaklee Social on Desktop, but when I go to Shaklee Social on desktop, I don't see the option to download the mobile app. Why is that?
Shaklee Social will only show you the option to download the mobile app when you are accessing it from your mobile device.
I have a business Facebook Page and a personal Facebook Page, and both are connected in Sociabble. How can I make sure that I am sharing to the right page?
When you select a piece of content to share to Facebook, you'll see beneath the Facebook icon a thumbnail image and name of the Facebook account that you are sharing to.
To change that, you'll use the inverted triangle icon right next to the page name and thumbnail to change the account you want to share to.
I have a personal Facebook page and business page. I already have my personal page connected but I also want to connect my business page. Where do I do that?
To connect your business page, you'll need to be on the desktop version of Shaklee Social.
From there you'll go to the left sidebar. You'll then select My Account and in the upper right section of the page, you'll see a gear wheel icon with the word Manage.
Click on the carrot icon next to that and you'll then see a drop-down menu that gives you the choice to edit your profile, My Social Networks (where you link your personal social accounts), Company pages and Notifications.
Choose Company pages. From there you can connect your business pages.
PRO TIP: While you can connect your Facebook business page, Facebook has de-prioritized content shared from business pages, so when you use your Facebook business page to build your Shaklee business, people are not seeing it as frequently as they see posts from your personal page. So, we recommend that you use your personal page to post about your Shaklee business. For ideas on what and how to post, visit the Prove It Live It Share It Page and use the Digital or Downloadable Social Calendar.
When I share from Facebook, there is a space for a link to be added. What link should I use? How do I add a link?
When you share a post that references a specific product and want to include a link to that product, you want to make sure that you use an attributed link.
To get an attributed link, you'll need to go to Shaklee.com and log-in (this might require clicking out the app temporarily), then go to the product page or landing page that you wish to share and use the "Copy Link" function just below the Product Name.
Then go back to the Mobile app to the piece of content that you want to share and paste the link into the space provided.
What if I had sharing issues with the App? What is the fix for that?
Our technology partner has made significant updates to the mobile app which should address many of the issues experienced during launch. But you must delete the old version of the app from your phone. Then go back to the App Store or Google Play store and download the app again.
*All trademarks are property of their respective holders and listed for informational purposes only.