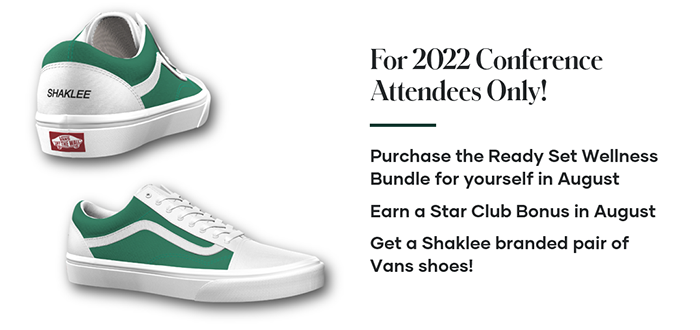 Shaklee Vans® 2022 Conference Attendee Promotion Rules
For Conference Attendees ONLY!
Make the decision to be one of the "cool kids." Cool kids wear Vans®. Get into action, Shaklee Family, and earn a Shaklee-branded pair of Vans shoes! We want all of you to be a cool kid, sporting your cool custom green Shaklee Vans.
The Fine Print
The maximum reward earned is one pair of Vans® shoes per Shaklee ID.
Qualifiers will be emailed on September 6 with additional information on how to redeem their reward, select their shoe size, and enter their shipping address.
For the complete rules on how to earn a Star Club Bonus, please go to the Star Club page.
For complete information on the Ready Set Wellness Bundles, please go to the Ready Set Wellness page.
Anyone creating and/or placing product orders through fake Ambassador/Business Leader accounts, or using the credit card of another person without their permission, or otherwise attempting to manipulate or game this incentive will be subject to all remedies for breach of contract set forth in the P&R, up to and including termination.
All trademarks are the property of their respective owners.