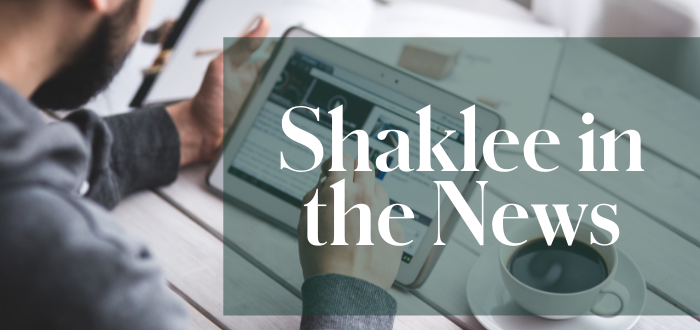 Shaklee is getting noticed! Check out our latest features in the press and find resources you can use to share these mentions with your social networks!
Shaklee Vivix was recently featured in popular wellness and lifestyle blog, Well + Good! The article is on the Muscadine Grape, and Vivix is featured along with insight from Dr. Erin Barrett, our Director of Scientific Affairs and Product Innovation.Use this article to generate curiosity and interest in Shaklee and Vivix! Here are a few tips for sharing:
Link out to the article via Facebook (see link below): Suggested wording: Just read a very cool article on the power of the muscadine grape. Did you know? The Muscadine grape has a huge quantity of flavonoid (a type of antioxidant) components—almost 200 times higher than in the average grape! Shaklee's Vivix supplement uses the most potent parts of the grape to deliver amazing antioxidant benefits. So glad I take it everyday!
Share article highlights via IG stories: highlight some of the best quotes/facts from the article and have friends message you for more info on Vivix.
Post about Vivix in your social feed with an "as seen in" nod to Well + Good.
Meology Kids has been selected as a recipient of the prestigious Seal of Approval from The National Parenting Center. Their product testing division–run by independent testers including parents, educators, and panelists–has determined that Meology Kids is deserving of this special recognition.
The NPC also has a pre-screened network of over 250 of the top Mommy Bloggers standing by to cover the report and engage their readers, the peer-to-peer impact that the Seal has established since 1990–making it stronger and more expansive than ever.
The seal is a powerful talking point for you when sharing Meology Kids, as it gives validity to the efficacy of the product, and validation as independent parents, teachers and panelists outside of Shaklee, have chosen it to receive the seal.
Did you know that in a recent survey 68% of mothers reported that they seek out award and seal of approval designations on products?
When asked if these types of designations increased the likelihood they would purchase an item, most moms (59%) reported it would!
If the last 18 months have taught us anything, it's that health and wellness is priority. Join Wellness Guru and NY Times Best Selling Author, Andi Dorfman, as she sits down with press and shares compelling data from Shaklee's recent U.S. Health and Wellness Study, and sheds light on wellness factors such as sleep, energy, and stress. She'll also share how she's boosting her own health and wellness journey with the help of Shaklee.
As a Shaklee influencer partner, Andi has also produced an Instagram Reel where you can learn more statistics from our wellness study, as well as learn more about her go-to Shaklee products. Andi's content, as well as the Shaklee Health and Wellness Study is great new and engaging content to share with your audience, so share if you'd like to leverage them, and also be sure to follow Shaklee and Andi on Instagram and give the post a like and a comment. 
Triple Defense Boost was featured in Life & Style's "MAKING ME TIME" September spread.
Collagen is a staple in any beauty and wellness routine, and our very own Collagen-9 is stirring up some buzz! It was featured on "Summer Beauty & Wellness" WKRN Nashville by Beauty, Fitness and Lifestyle expert, Megan Thomas Head.
*All trademarks are the property of their respective owners.