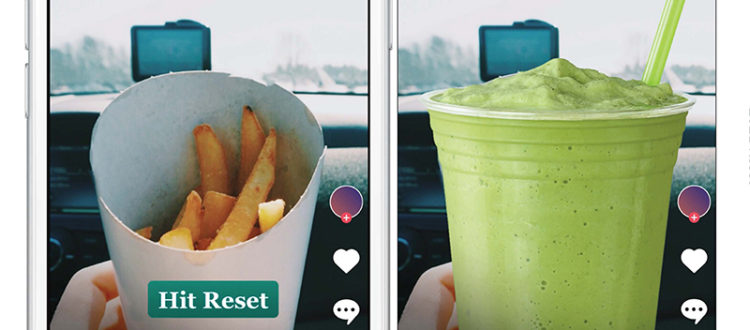 2021 Reset Challenge on Tik Tok
Let's Make Heathy Happen™ on TikTok by inviting people to join us in resetting unhealthy habits for healthy ones in 2021.
To participate, you'll create a video for TikTok that shows an unhealthy habit or behavior being transformed into a healthy one.
Maybe that's turning fries into a green smoothie, turning binge watching into a workout, or getting off of Zoom® and going outdoors. The possibilities are endless!
Use the tabs below to learn more about the challenge, get ideas for your TikTok video and get instructions for how to create your video.
The challenge starts on TikTok January 21, 2021.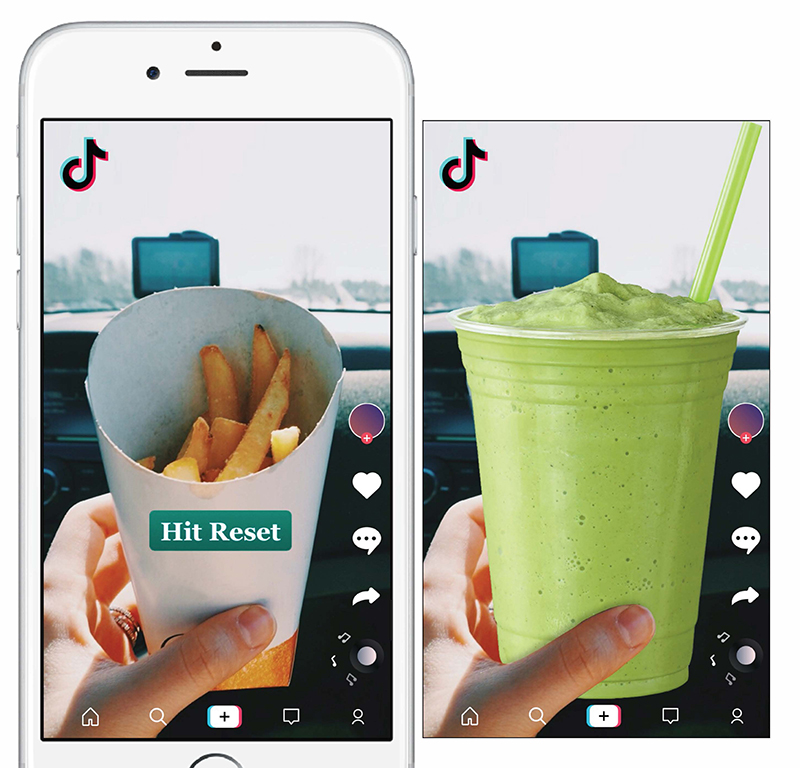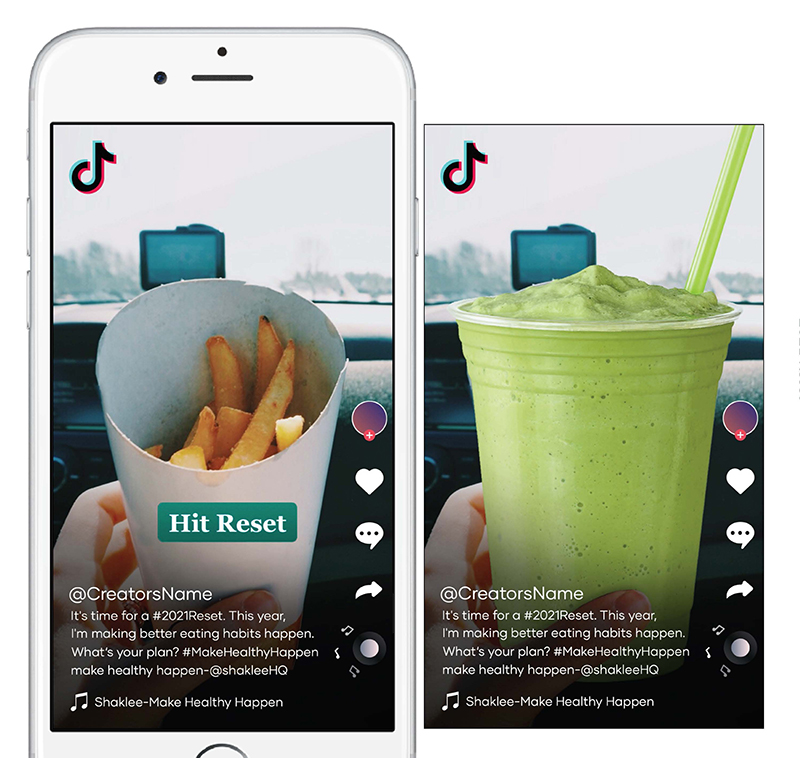 Start by showing an unhealthy thing in your life, or something you just want to change.

Tap it like you're pressing reset.

If it's not an object, use your surroundings.

That transforms into your new, healthier habit.
SOUND:
Shaklee has created a special sound just for TikTok! Our sound has a transition, made just for the moment you hit reset. Make sure you hit reset when the beat hits.
VIDEO:
Try to keep the same composition and framing of the subject matter that is resetting.
TEXT:
Highlight your reset with text to add personality. Try to use hues of green or white to be on brand. Some examples to the right, for inspiration!
CAPTION:
Hashtag: Make sure to hashtag: #2021Reset and #MakeHealthyHappen. Tag: In your caption, tag @shakleeHQ and encourage others to join the movement.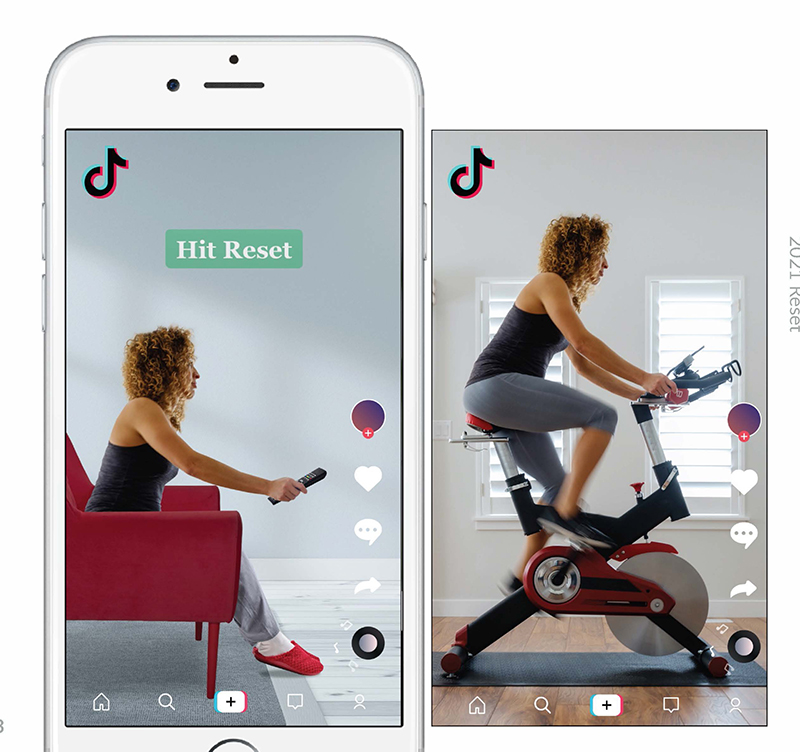 Here are some ideas for your video:
French fries reset into a salad.
A random corner resets into a zen space.
Stressing out resets into doing a guided meditation.
Sitting on the couch resets into a spin workout.
Watching TV resets into watching the sunset.
A dry, sad plant resets into a happy, green plant.
Overgrown hair resets into a clean cut.
Your overflowing Tupperware cabinet resets into neatly organized storage.
Bad posture on Zoom resets into a standing desk.
Kids on their phones reset into family game night.
End of day makeup resets into glowing, clean skin.
Feeling old and achy resets into being dressed to the nines.
Wearing slippers resets into running shoes.
Holding the remote resets into holding a tennis racket.
Shopping in a crowded supermarket with mask on resets to being alone in nature.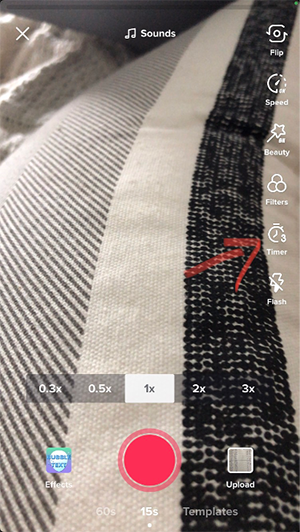 Open the Tok Tok App and click the plus sign to start creating a new video.

Click Sounds at the top of the screen. In the search bar, type Shaklee, to find the Shaklee Reset custom sound. Now you're ready to start filming.

Tap the Timer button on the right-hand side of the screen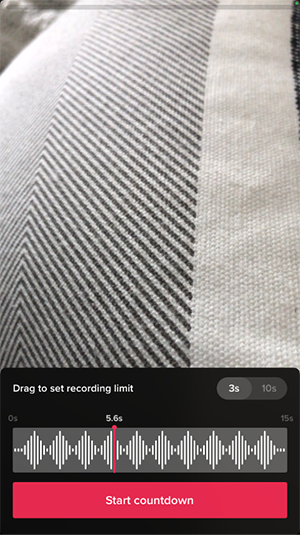 On the next screen adjust the time you want the first part of your transition to be (the unhealthy habit part).

Then click start countdown. It will give you a countdown and then begin filming.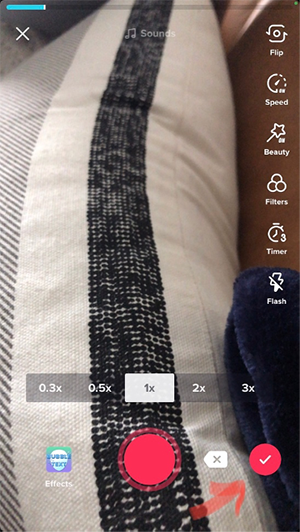 Repeat Step 2 to film the second part of your video. When you are done click the red checkmark on the bottom right of the screen. This will allow you to watch both videos you filmed together with the transition.

MAKE SURE TO END YOUR FIRST VIDEO AND START YOUR SECOND VIDEO WITH THE SAME MOVEMENT (i.e. if you end your first video with a snap, start the second video with a snap—this is what creates a smooth transition video).

If you are good with your video click NEXT, write your caption and click publish!