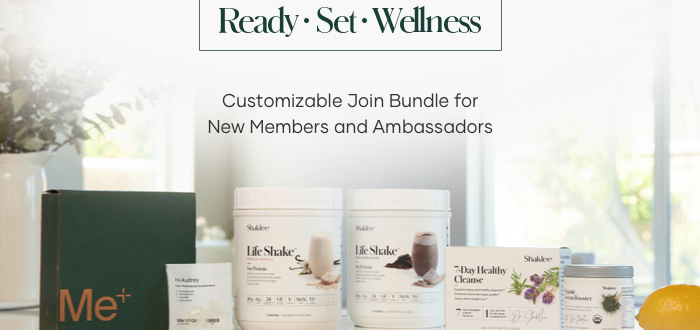 For the introductory price of $179 the Ready Set Wellness Bundle provides new people starting with Shaklee a personalized path to true wellness and healthy habits in 5 minutes.
Plus, free shipping, free membership, and 25 loyalty points to use on a future order with a $25 Star Bonus to the original sponsor.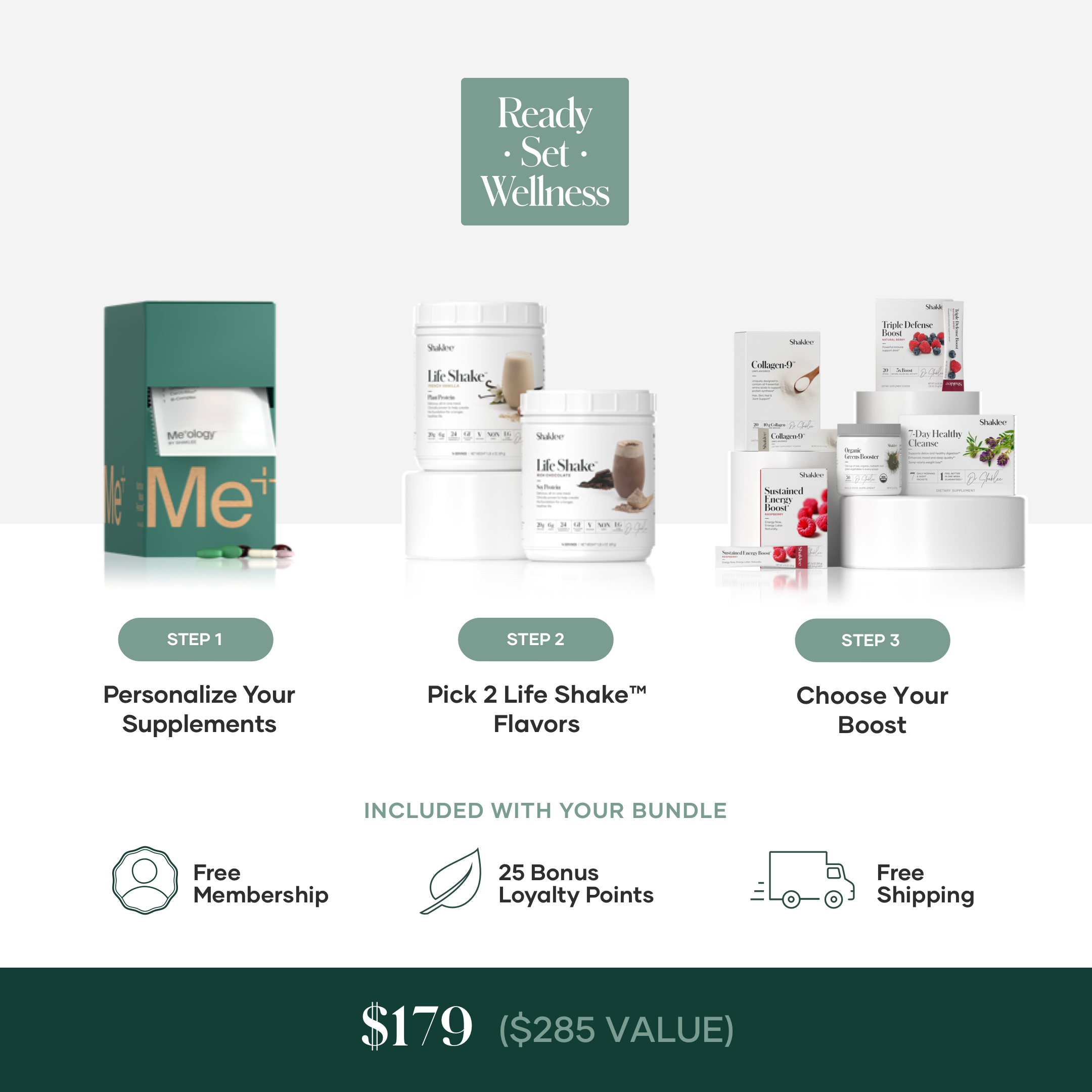 Ready Set Wellness Bundle
Ready to have more energy, sleep better, live healthier, and feel younger? Set your personalized path to true wellness and healthy habits in 5 minutes. Wellness is in reach, with clinically proven products from the pioneers of wellness.
Step 1 – Take the Meology™ Assessment. Not interested in personalization? Choose Vitalizer™.
Step 2 – Pick your Life Shake™ protein and flavor.
Step 3 – Choose your boost. Choose from one of the following:
7-Day Healthy Cleanse – Feel better in one week. §
Collagen-9TM – Your daily beauty booster with all 9 essential amino acids.
Triple Defense Boost – Support, boost, and defend your immune *
Organic Greens Booster – One scoop equals one cup of raw vegetables.
Sustained Energy Boost* Drink – Face each day with long-lasting *
Offer valid in the US.
Open to new Members and Ambassadors on their first order.
The cart must contain a Meology™ Ready Set Wellness Bundle or the Ready Set Wellness with Vitalizer™ #89600.
Includes personalized multivitamins, 2 Life Shake™ in your favorite flavors, and a nutritional boost of your choice for the promotional price of $179. Plus, free standard shipping (excluding orders with 5- and/or 30-gallon supplies of Classic Basic-H®) applies.
Offer includes 25 Bonus Loyalty Rewards Points to redeem on your next paid order of $100 or more. This means your cart total must still be $100 or more AFTER you have used points to redeem a product(s).

The 25 Bonus Loyalty Points will appear automatically in the account and will be available for use 20 days from join order.
Each Loyalty point is equal to $1 toward Shaklee products.
The 25 Bonus Loyalty Points must be redeemed within 90 days of join order on a paid order of $100 or more (exclusive of shipping & handling and applicable taxes).
The Loyalty Points applied must pay for the product in full.
You do NOT need to place a Loyalty Order to redeem your 25 Bonus Loyalty Points.
At checkout turn the "Redeem Points" toggle on and select a product for $25 or less to use your 25 Loyalty Points.

Offer valid once per Shaklee User ID.
Eligible orders must be placed online.
This offer does not apply to orders placed through the Call Center.
Shaklee reserves the right to change or cancel this offer at any time. Offer good while supplies last.