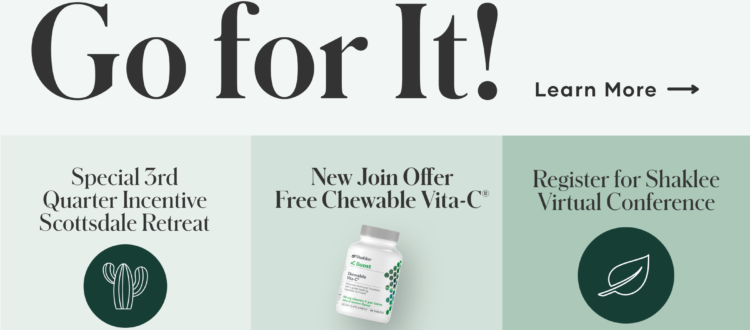 Go for it! | July – September 2021 Quarterly Focus
We're less than 100 days from the biggest event of the year – Shaklee Virtual Conference! Go into this 65th Anniversary year in momentum by inviting new people to join your team and taking advantage of incredible rewards!
PRODUCTS & PROMOTIONS
Take advantage of these exciting opportunities to create conversations with new people about Shaklee
Collagen-9™
On Sale 8/2 (US) and 8/10 (CAN)
Meet Shaklee Collagen-9™, the most complete collagen product. Take advantage of this exciting new offering to introduce new people to Shaklee Nutrition.
August Join Offer - $100 Credit on Second Order
Offer Ends 8/31
Enroll new Members or Distributors this month with a $150 product order and they'll get a $100 product credit to use in September.
VIRTUAL CONFERENCE
Be empowered to expand and grow your Shaklee Business through inspiring general sessions, dynamic workshops, and an informative virtual expo.
Register for Virtual Conference
$49 per person
Virtual Conference will be a singular experience you and your teams don't want to miss! Be empowered to expand and grow your Shaklee Business through inspiring general sessions, dynamic workshops, and an informative virtual expo. Registered attendees will also have exclusive access to purchase the 2021 Conference Bundle!
Host a Virtual Conference Watch Party!
Registration Opens 7/12
Bring an exciting and inspiring live element to the conference experience by hosting a Virtual Conference Watch Party! And when you register your watch party by 8/31 and are among the top 10 in attendees, we'll ship you a Shaklee Branded Swag Box to use during the event!
Free Registration for New Distributors
July 1 – September 15, 2021
All new and upgrading Distributors joining Shaklee will receive a FREE $49 registration for Shaklee Virtual Conference.
INCENTIVES & REWARDS
When you focus on sharing your Shaklee story and inviting others to become part of our community, you have amazing rewards available to you!
Special Scottsdale Q3 Incentive
Arizona Biltmore Resort and Spa
Double your efforts this quarter to earn an elite experience – three days at the newly renovated Arizona Biltmore Resort & Spa – a glamorous, luxury destination nestled in the sun-splashed beauty of the southwest.
Q3 Quarterly Incentive Program
North Face® Fleece Jacket
Focus on Distributor Sponsoring, Star Club, and sharing Meology™ over the next three months to earn cool prizes and unique experiences with the Quarterly Incentive Program.
Star Club Incentive Trip 2022
Paradisus Playa Mujeres
We're headed to the glittering sands and crystal-clear blue waters of the Mexican Caribbean for the 2022 Star Club Incentive Trip. Qualify for this luxurious experience by growing your business THIS YEAR through sponsoring new Distributors, advancing in rank, and developing Leaders on your team.
2&1 in 2021
Start with a simple goal and repeat it each month to be on track to earn the Star Club Incentive Trip, Quarterly Incentives, Pace Setter bonuses, $21K in 2021 bonuses, and VIP Status.
Complete Star Club by enrolling 2 Members and 1 Distributor
Place a $150 Loyalty Order
Do this every month in 2021 and you can earn:
$75 Star Club Bonus monthly
Up to $1,500 monthly Loyalty Bonus
Quarterly Incentive special prize and celebration
Star Club Incentive Trip for one, plus 50 extra points toward Star Club Incentive Trip for two
VIP Status and Recognition for all 2022 events
Pace Setter bonuses
$21K in 2021 bonuses
Plus, when you and your team do these activities over time, you'll create a culture of growth and momentum in your team. The possibilities are endless with 2 and 1 in 2021!
Focus on the Shaklee Vital Behaviors Every Day:
Make 3 new connections
Make 3 follow-ups
Extend 3 invitations. We recommend that you host at least three pop-up events a month that you can invite prospects to attend.
Use and love Shaklee products
Make time for personal development