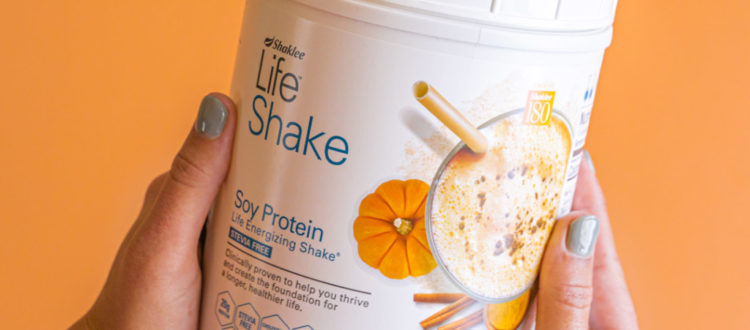 NEW Pumpkin Turmeric Spice Life Shake™
Turmeric and spice – oh, so nice!
Pumpkin spice lovers rejoice: now there's a healthy way to enjoy this favourite fall flavour – with a turmeric twist. Introducing our new-and-improved seasonal Life Shake™: Pumpkin Turmeric Spice.
It has 20 grams of non-GMO soy protein per serving and is stevia free. But it's lower in calories than our other stevia-free shakes because it's sweetened with a natural, non-GMO, zero-calorie sweetener that tastes great and is sustainably sourced from sugar cane. Our exclusive fall flavour has added turmeric, which has been used for thousands of years in Ayurvedic medicine and is widely used as a colouring agent and spice.
Limited-time-only Pumpkin Turmeric Spice is available in soy protein only. Make sure your Members and prospects act fast to try this exciting new flavour and include it in their Prove It Challenge™ Kits!*
*This product (item code 56343) is temporarily available to order as a single unit only but will soon be available to add to plans and packs, including the Prove It Challenge™ Kit.
DOWNLOADING ANIMATIONS:
DESKTOP
To use the animations, download using the link and then upload as you would any video in Facebook®, Twitter®, or Instagram®.

In Firefox®, when you click the link, you'll need to right click and "save page as" to download the file.

In Safari®, when you click the link, you'll get a dialogue box asking if you want to open or save. You should save to download the file.

In Chrome®, when you click the link, it will play. In the lower right-hand corner, you'll see an icon for download (a downward arrow). Click that link to download the file.
MOBILE
Android
On some Android devices, you can press and hold the link to download to your phone and then upload to the social platform of your choice.

You may also e-mail the animation on desktop as an attachment to an e-mail address you can access from your phone. Open the e-mail you've sent to your phone, click on the attachment, and save the video file. The file will then be in your camera roll.
iPhone prohibits the direct download of MP4 files to your phone. To get the animations, use the desktop method and e-mail the animation as an attachment to an e-mail address you can access from your phone. Open the e-mail you've sent to your phone, click on the attachment, and use the Share button to save the video file. The file will then be in your camera roll. On some phones you may get the choice to "share file via" – use that option, then choose "save video."