Create Interest & Generate Leads
Making a personal connection and establishing rapport with potential customers or business partners is key to building your business.
Follow the Social Content Calendar
Use the digital calendar for ideas on what and when to post on social media – use the assets in Prove It to share all about the Prove It Challenge with your social networks.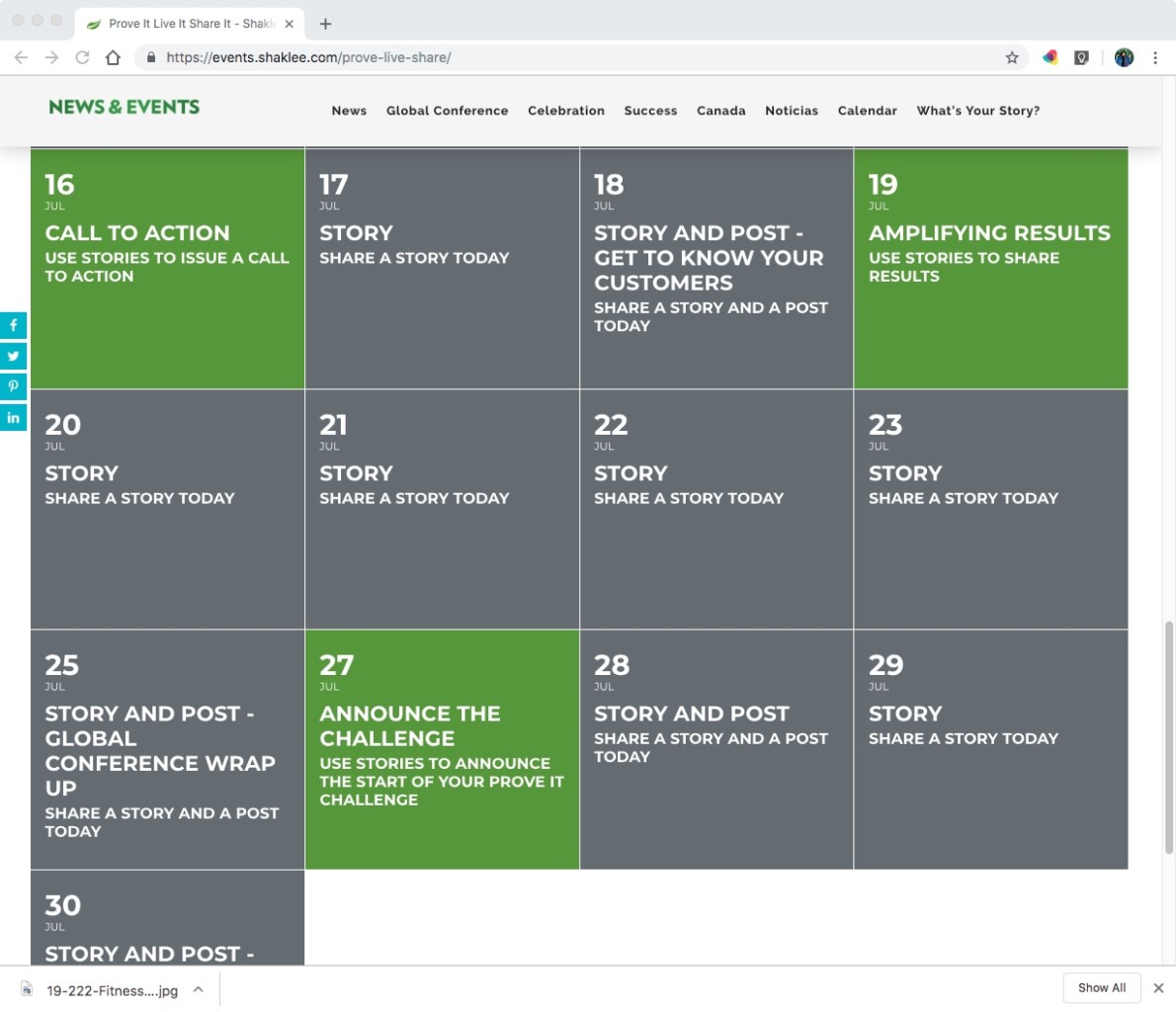 Social media is an incredible tool for sharing. From photos to articles to boomerangs, we let the world know how we're doing and what we feel by posting to social media, and there's no better place to connect with people and share your personal results from the Prove It Challenge and the Shaklee lifestyle than online.
Watch as Kristen Cunningham and Tracy Fixen share how to expand your social reach
Take advantage of these other training resources to learn how to leverage social media to connect with your online audience:
When using social media, it's important to make sure your content is compliant:
When discussing any part of the business opportunity, you need to be aware of the claims that are being made during the live stream. The benefits of having a Shaklee business must be presented accurately and you must always refer individuals to myshaklee.com for the most up-to-date information, including current average annual incomes by rank.
When sharing the opportunity and/or lifestyle, you must be accurate and not make it seem like your results or any other results are guaranteed.
Shaklee Independent Distributors are not permitted to make medical or implied medical claims. When providing your own personal testimonial, please remember that the claims must be accurate and approved by Shaklee.

Even if you feel that your experience was affected by the use of Shaklee products, you cannot make statements that are not approved by Shaklee.
Shaklee approved claims can be found on product labels, in company produced literature, and on the company's website.
Some best practices for posting on social media platforms:
Clearly present yourself as a Shaklee Independent Distributor
Don't target individuals under the age of 18
Don't advertise any non-Shaklee promotions
When sharing a Shaklee promotion, you must fully explain how someone can obtain that promotion (e.g. "You can receive 15% off your orders by signing up as a Member. Send me a PM or visit my website for more details.")
Connect with People Daily about the Prove It Challenge
The more people you meet…the more opportunities you have to find your next customer or business partner…the next person you can help achieve their health, lifestyle or income goals.
Meeting more people starts with a commitment to do it consistently. And the best way to do that connecting with people daily about the Prove It Challenge. It starts by building genuine relationships with people both in person and online. Once that relationship and trust is built, begin sharing authentically about the Prove It Challenge.
Click here for resources to share with your audience about the Prove It Challenge.
For Shaklee Canada Prove It Challenge resources, click here.