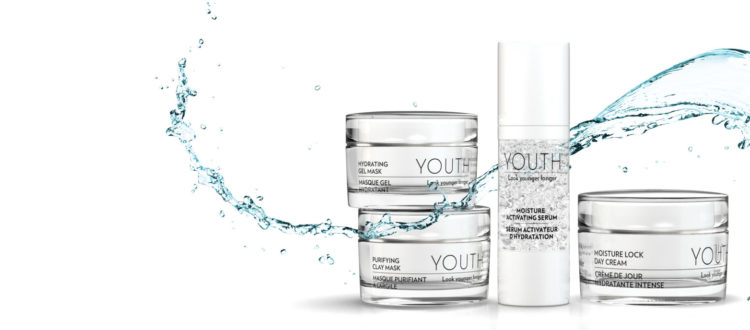 What's new with YOUTH®?
We have exciting new additions to the YOUTH Skin Care Line including new hydration products, regimens, masks, and special offers!
Hydrated skin is healthy skin, and the foundation to any anti-aging regimen. And now you and your customers have a choice of regimens to fit your needs: The Advanced Anti-Aging Regimen and the new Advanced Hydration Regimen and Personalized Regimen.
When skin becomes dry, it is more prone to sensitivity, lines, and wrinkles making the skin look duller and older. Our Active Cellular Hydration Technology in the new Hydration products acts as a moisture magnet, attracting moisture to the skin's outer layers and creating a reservoir to lock in hydration and prevent moisture loss.
Yes, you can have it all! While we have a new Advanced Hydration Regimen there is flexibility and customization with these two new products for those who have been using the Advanced Anti-Aging Regimen.  It is not an either/or situation. You don't have to switch your Advanced Anti-Aging Regimen customers over to the Hydration Regimen. The hydration products can easily be added to the Advanced Anti-Aging Regimen for those who need a little more hydration, and they can customize when and how they use the products depending on their skin needs. The Advanced Hydration Regimen was added for those who don't want to start on an Advanced Anti-Aging Regimen, have had issues with using Retinol, or perhaps just have sensitive or dehydrated skin and prefer the new textures that we formulated to hydrate and soothe. Hydration is still about the health and vitality of your skin. It's the most universal and common need that customers want addressed with their skincare routine regardless of skin type, age, season, or lifestyle. It's also a great complement to many customers' anti-aging routine.