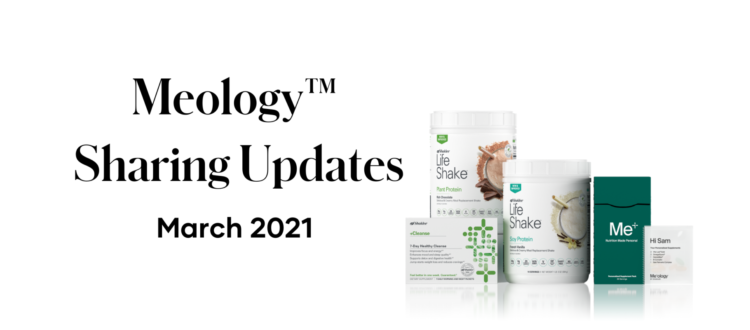 Exciting Updates to Meology™
We've made some exciting updates to Meology to make it even easier for you to share!
Single link to share Meology
WHAT THIS MEANS:
As of today, you only need to share one single link to the Meology assessment with your prospects and customers. There is no longer a need to choose whether you share the regular Meology Assessment link or the Meology Prove It Challenge  Assessment link.
After someone takes the Meology Assessment, the Meology recommendation page will give them the following options for purchase:
Meology Essentials
Meology Essentials Plus
Meology Essentials Prove It Challenge
Meology Essentials Plus Prove It Challenge
Because of this change, we have updated the following pages to now show only one link to the Meology Assessment:
PWS pages that include Meology
Become a Member page
Become a Distributor page
Meology landing page
Back Office and Shaklee Connect Share Meology box
Shaklee Share App (single section for Meology now instead of two)
We covered how most of these updated pages appear in the video in this article.
LINKS: Your Meology assessment links will still work (both the regular Meology and Meology Prove It Challenge links). The new single Meology link is the same as the link you previously used for the regular Meology assessment. Your previous Meology Prove It Challenge assessment link will automatically direct the user to your single Meology assessment link.
Meology assessment and recommendation pages are now available in Spanish
WHAT THIS MEANS:
You can now take the Meology assessment and view your Meology recommendations page in Spanish.
To take the assessment in Spanish:
Go to the Meology assessment link
In the top, right corner click on "English"
In the drop-down menu, select Español
The page will reload and the assessment will be in Spanish
NOTES:
There are a few images in the Meology landing page and recommendation page that are not yet showing in Spanish. This includes images on the landing page and the one-sentence supplement description that appears below the supplement image on the recommendation page. We are working quickly to get those updated. All of the assessment questions and reasons why a supplement is recommended will appear in Spanish.
Shipping credit when 2 people both have Meology Loyalty Orders on an account
Because Meology is personalized nutrition that is made to order, when there are two people on a single account each person on an account must have their own login to have their own Meology plan. And again, because of the personalized nature of Meology, only one Meology plan can be purchased per order and therefore, two Meology plans cannot ship together. We know this has caused many people on two-person accounts to have to pay shipping on two separate Meology orders so we are now applying a shipping credit to address this.
WHAT THIS MEANS:
When two people on an account each have a Meology Loyalty Order, if both Meology Loyalty orders are processed in the same month, the second Meology Loyalty Order will have an $11 shipping credit applied to it to cover up to $11 of shipping charges.
If the shipping is less than $11, you'll be charged $0 for shipping. If the shipping is more than $11, you'll be charged for the difference. For example, if the shipping is $20, you'll be charged $9 for shipping.
We hope these updates will allow you more easily share Meology! We will continue to make updates to enhance Meology and update you as they become available.