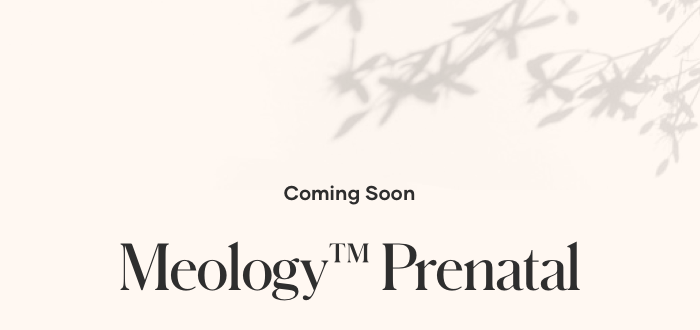 Coming Soon: Meology™ Prenatal
We've got a special delivery coming soon to the Shaklee Family this fall – Meology™ Prenatal.
This exciting nutrition program delivers comprehensive nutrition for mother and baby at each natal phase with targeted solutions for a woman's unique journey to motherhood.
Complete Nutrition Throughout the Motherhood Journey
A Groundbreaking Innovation ​ – A science-backed, safe, lineup of products, delivered in convenient daily packs to support the body's journey into motherhood.​
Based on her current phase and personal needs, MeologyPrenatal pairs her with the right solution for her and her baby. ​
As she moves through her journey, she can update her MeologyPrenatal subscription to address her changing needs.​
Developed by Scientists & Physicians​ – Features unique formulations for the body's changing needs throughout the motherhood journey, including powders, gellys, and chewables to support core nutritional needs and optional solutions to address unique personal needs. ​
Superior Nutrition​ – Provides all core nutrients needed by mom & baby, including 100% DV of 20 essential vitamins and minerals, 300 mg DHA & EPA, and 225 mg choline. Meology Prenatal provides a nutritional value that supersedes other popular brands. ​
Personalized​ – Moms-to-be answer a few questions about their pregnancy and postpartum struggles and occasional discomforts and receive custom recommendations.
Just the Good Stuff​ – Made with effective, proven ingredients that are safe for both mom & baby.
Convenient​ – Proprietary, all-in-one packs save time and eliminate guesswork.
Meology™ Prenatal Program
Core Nutrition​ – Only $74.00 (MN)​, includes Prenatal MultiV Drink, MultiM Tablet ​and Omega-3 GellysTM​
Optional Solutions – Moms-to-be can add optional solutions to the Meology Prenatal packfor only $15.00​ for sleep, stress, and occasional leg cramps, indigestion, and constipation​
Add on Products – Moms-to-be can also purchase optional add-on solutions​ to provide support for energy needs (protein & calories), occasional nausea, and fatigue​
Stay tuned for more information as we count down to the delivery of this new nutrition program in November!