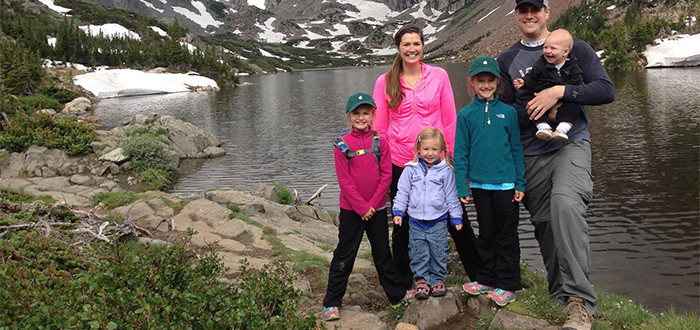 "Shaklee has been a gift to our family in an uncertain time."
" I really want to share this business even more because I know what a gift it has been to our family during an uncertain time." — Dianna M.
Matt and I were introduced to Shaklee by my sister, Sarah, and although we said that we would never start a Shaklee business, we loved the products so much for the health that they offered to our family that we just naturally started to share Shaklee with others.  We became Senior Directors and stayed there for a long time – honestly, stressing out about making our 2000 PGV each month!  But to be fair I was hardly working.  We liked the extra money and felt like we could order whatever products my family wanted.  We were even able to pay some of our bills with our Shaklee bonus so that we could move out of my parents' basement and buy our first home!
I attended Shaklee Live in Cleveland and felt such energy and success from everyone there.  It was exhilarating, but I was a little scared about getting to Amazing in 100 days when I felt that we hadn't done very much in a longer time frame!
I picked up a Senior Coordinator ribbon at Conference and felt an excitement for our future that I hadn't felt before.  Something new was just lit inside of me.  I placed that ribbon on a big mirror in our bedroom that I see all the time and I set a goal for us to get to Sr. Coordinator by December.  I knew that was possible, even for a home-schooling mom with four kids, but I also knew that we needed to make more time for our business.  I started an affirmation to myself at the suggestion of our awesome upline, Lisa.  "I have more than enough time to get done what I need to get done today."  I really like that.  I can say it over and over again and it helps me to calm down and be more efficient with the time that I do have.
I hosted a 100 Days to Amazing kickoff party just four days after we got home from conference.  I really wanted all of us to reach our goals, utilizing Life Plan and the Shaklee Connect™ Mobile App.  We went through the new products, the new tools and shared our action plans.  It was an awesome night, and I felt like we had brought the energy from conference back to our home and our community.  I was really excited to see what would happen in 100 days.
Then something very unexpected happened.  My husband lost his job, kind of out of the blue.  He was one of the top salesmen and felt very secure in his job.  And just like that our biggest source of income was gone, only 9 days after conference was over.  But instead of feeling bad for ourselves and getting negative with each other, my husband and I came up with an intense action plan.  We had a meeting scheduled that night with one of our downlines, one of our closest friends and business builders, Caitlin, who asked what she could do to help.  Then she stopped herself, and said, "I know how we can help you.  I can work harder in my own business."  That was how it started.
With the tremendous focused effort of our entire team, we promoted to Senior Coordinator in August, skipping Coordinator entirely.  We had in-home meetings, Facebook events, and did follow-up calls that have been on my "to do" list for a long time.  We shared lots of resources from the Shaklee Connect app which streamlined everything.  We had a smoothee party and we tried to work smart.  And I'm really so thankful for every Business Leader on our team and for all of the love and support we have received from the Shaklee community.  This is a team accomplishment.
This month has been really hard in some ways, but extremely rewarding in other ways.  I really want to share this business even more because I know what a gift it has been to our family during an uncertain time.  We're able to pay our mortgage this month, and all of our bills.
I had heard about the Chairman's Leadership Retreat at Conference and honestly kind of dismissed it, thinking that's for the people who do Shaklee full time or who do it better than I do.  Now my mindset has changed and we are going for this incentive, not only because it will be a once in a lifetime trip, but if we qualify, we will exceed our financial goals.  I've learned from this experience that we are all capable of much more than we can imagine.
To cap it off, 2016 is the year of our 10-year wedding anniversary and it's taking place during the week of Shaklee Live, so we actually get to celebrate this milestone anniversary in Orlando with our Shaklee Family!  We really wanted to go on a tropical vacation to celebrate but didn't know if we could afford it and now we are on track to earn the trip to Los Cabos!  We are incredibly thankful for all of the support, help and practical advice that we've received from everyone, and so excited about our future!