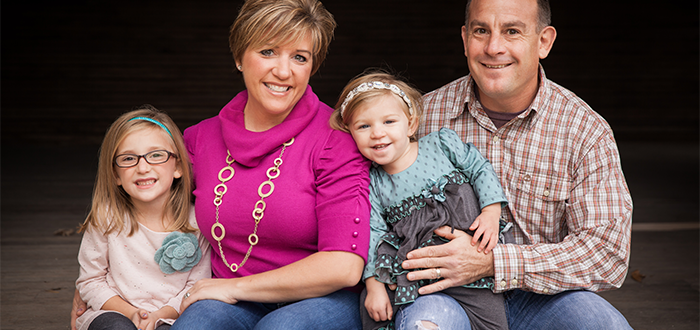 "I was simply looking to feel better. But Shaklee transformed me in a number of ways."
"[When I came to Shaklee] I was simply looking to physically feel better. What I found was that Shaklee was about to transform me in a number of ways." — Kristen
I am a wife and mom of two amazing children who keep our calendars and hearts full! I am a certified recreation therapist by training and worked with people of all ability levels, including stroke survivors, people with spinal cord injuries and children with emotional and behavioral disorders.
When I met my upline Harper at the gym and on a playdate I was at the worst time of my life. One month after receiving a job promotion for the company I had worked for and thoroughly enjoyed for nearly 14 years, my dad tragically passed away with no warning. What I didn't know was that it was the first in a series of losses I was about to endure. My husband and daughter and I had to give up the home we had been in for nine years to move in with my newly widowed mom who was only 60 years old. We were also in the midst of intensive fertility treatments to conceive our second child and the new position I took just six months earlier was eliminated. I was left with nothing but grief, illness and deep depression. I shared with Harper my desire to start fresh once my daughter was born. I was simply looking to physically feel better. What I found was that Shaklee was about to transform me in a number of ways.
I began using the Shaklee 180® Turnaround Kit when my second daughter was a month old. It was extremely important to me to use products that were guaranteed safe while being effective. I had dramatic results with weight loss and energy and ended up 31 lbs. lighter after about 100 days* and from there started using more products. I realized very quickly that there was an opportunity to create a business sharing these products and I decided to go for it! I started my Shaklee business in July 2013 and became a FastTRACK Director in three months. Since that time I have promoted to Senior Coordinator, earned my first Dream Car Bonus and qualified for Los Cabos and the Chairman's Leadership Retreat!
When I began my Shaklee business I thought the trips, cars and high end perks were just for Shaklee's top achievers. But what I have realized is that with the help of my upline team I can set goals and earn those same high end perks. When John and I qualified for the New Directors Conference we were excited, but never before that trip did we ever DREAM we'd earn a car bonus and two more trips! It's still a little surreal for me to think that that this year, I'll travel to Palm Springs for the Chairman's Retreat and then the following month travel to Los Cabos. One of the things I am really excited about is the opportunity to spend time with my husband. We haven't been able to travel together in some time due to our financial situation…and going to a five star resort in Mexico? It's a luxury beyond luxury for us. I look forward to savoring the first of what I hope will be many more amazing experiences.
Spreading good health and wealth with families we care about is the reason we started this business and to be rewarded so graciously has been the icing on the cake!
*Results and experiences from the Shaklee 180 Program are unique to each person, so results may vary. In a preliminary 12-week clinical study, participants on average lost 15.4 pounds and 6.7 inches in 12 weeks.