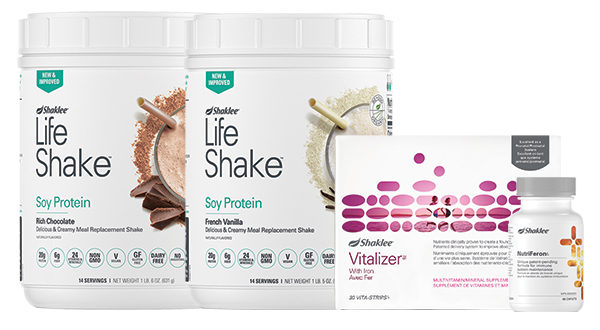 Introduce new people to Shaklee with the Immunity Challenge Pack: the daily essentials that can help build optimal immunity and support overall health.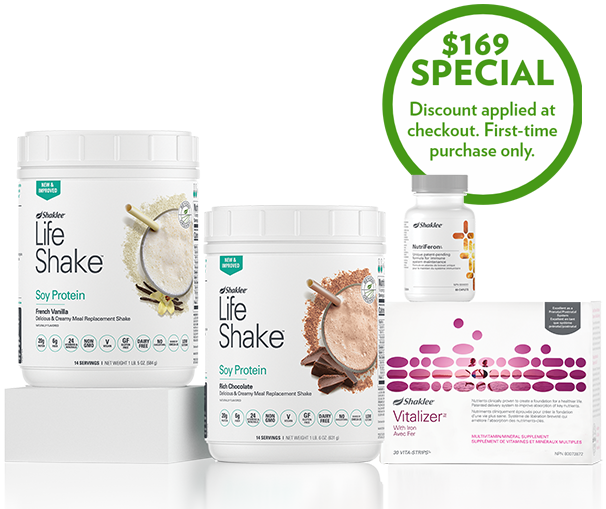 The Immunity Challenge Pack includes:
Vitalizer™ (30 daily strips)
Advanced nutrition based on 12 clinical studies, with zinc, vitamins C and D, and more.
Life Shake™ (28 servings)
Healthy meal replacement packed with 20 grams of protein per serving and 24 essential vitamins and minerals.
NutriFeron® (60 tablets)
Specialized, daily immune support to help maintain healthy immune function.
Prove It Challenge™ Kit and Immunity Challenge Pack
Join with the Prove It Challenge Kit, which includes two free Healthy Cleanse products, or with the Immunity Challenge Pack, which includes free NutriFeron®, for the special price of $169 – and get free shipping.
Offer valid in Canada starting April 22, 2020.
Open to new Preferred Members and Distributors.
All existing Preferred Members and Distributors will have a one-time opportunity to purchase the Prove It Challenge Kit or the Immunity Challenge Pack for $169, regardless of price tier.
To take advantage of this promotional price and free shipping on the entire order, your cart must contain a Prove It Challenge Kit (#79526) or an Immunity Challenge Pack (#79531).
Offer valid once per Shaklee User ID.
Eligible orders must be placed online.
This offer does not apply to orders placed through the Call Centre.
The free product cannot be returned for cash or product credit or exchanged for another product type.
Shaklee reserves the right to change or cancel this offer at any time. Offer good while supplies last.