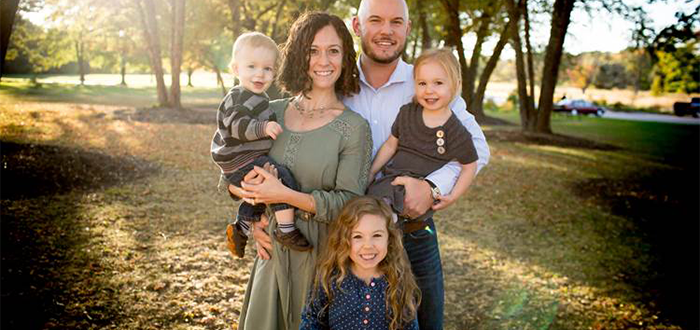 "Deciding to build with Shaklee meant I could finally DREAM of a future that was possible."
WHO I have grown into as a woman, a mom, a wife—the woman God intended me to be—has been the biggest Shaklee Effect. — Harper
How did you learn about Shaklee?
Shortly after my husband and I got married, I began a small step into a health journey that revealed that I could feel and be better than I even imagined. That journey evolved into research beyond just food and fitness, but also of the toxins in cleaners and the quality and potency of supplements, etc. I found a trustworthy answer to many of my questions when I walked by a vendor booth at my gym. The woman, who was also a mother and ironman athlete, partnered with a company who seemed to have what I was looking for. That company was Shaklee. 
How did you go from being interested in the products to sharing them with others?
As I began to understand the Shaklee opportunity alongside their product line, I joined as a Distributor in December of 2005. I had every intention to "dabble" in sharing this remarkable company. I used the products myself and saw great results in our health. Aside from the health benefits I was gaining an education too. I excitedly shared these amazing products and my results for five years, but never with a concrete intention to create a business out of my growing passion.
When did you decide to go from sharing the products to building a business?
In March of 2011, as I worked to stay home full-time with our one year-old daughter, I became a Director. It was exciting but even still, the dreams of something bigger and the understanding of the real potential had not hit me yet. But over the next year, the Shaklee opportunity finally began to click and at our team conference in January of 2012, I got it and committed to intentionally pursue growing our Shaklee business.
What did you do to get started building your business?
For most of my life I worked as an executive assistant who didn't often have an opportunity to lead, motivate or create. Deciding to build with Shaklee meant I could finally DREAM of a future that was possible. I did three things—I set goals and made a dream board, I started setting aside specific and focused work time, and I started investing energy in personal development. That March I met Katie, which motivated me even more to grow and dream, because now I had a team to lead! 
What has been the biggest impact Shaklee has had on you – your Shaklee Effect?
The income, financial freedom, Shaklee car and trips are not what has changed me or become my identity. Those have been life-changing results for sure but WHO I have grown into as a woman, a mom, a wife—the woman God intended me to be—has been the biggest Shaklee Effect.
You've accomplished so much with your business already. What do you envision for your business in the future?
I am driven by my desire to create a long-term business that will support our family's future goals and dreams, which I will someday pass onto my children. Part of this pursuit is to empower others to do the same.
What advice would you share with other Distributors who are looking to achieve the success that you have?
When we share the vision for a brighter future —when we embrace others' dreams as just as exciting and important as our own and help them achieve them then we are fulfilled and blessed. Are you looking to reach your PGV+ goal for March? Share the possibilities with people! You may not even know they are looking for purpose or financial freedom—so share the joy!