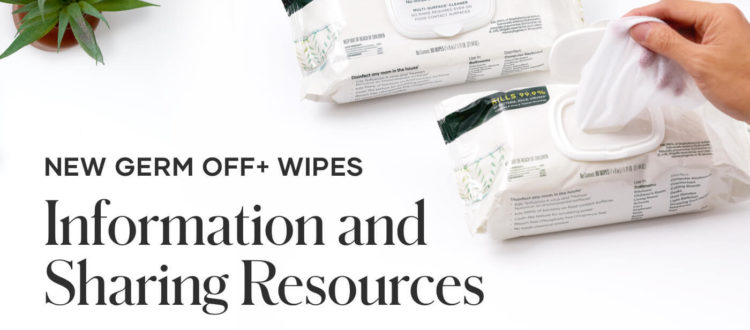 Clean and disinfect household surfaces in just 5 minutes with new Germ Off+ Wipes! Effective against bacteria, viruses* and other microorganisms on hard, nonporous surfaces, these wipes are safe to use without rinsing in kitchens and on food contact surfaces.
Kills the *COVID-19 virus 1,2 in 1 minute.
No rinse required, even on food contact surfaces.
Kills *H1N1 Influenza A virus and *Human Norovirus on environmental surfaces.
Kills 99.9% of bacteria, leaving surfaces clean and disinfected.
Cloth-like texture for scrubbing power.
Use in bathrooms, kitchens, playrooms and schools.
Buy three and get one free!
Take Germ Off+ Wipes wherever you go – kitchen, classroom, car, and gym!
Purchase three, you'll get another free – an over $10 value! Must use item code #89585 to take advantage of the offer.
Rules
Buy 3, Get 1 Free with the Germ Off+ Wipes 4-Pack.
Offer good is in the US from while supplies last.
Open to all Guests, Members, Distributors, Associates, and Business Leaders.
Buy 3, Get 1 Free with the purchase of the Get Clean® Germ Off+ Wipes 4-Pack #89585.
No limit to the number of Get Clean® Germ Off+ Wipes 4-Packs you can order.
Loyalty Orders (formerly Autoship orders) are included.
The free product cannot be returned for cash or product credit or exchanged for an alternate product.
Shaklee reserves the right to change or cancel this offer at any time.
Back Order Resolution
When open order begins for Germ Off+ Wipes, all wipes product backorders will be filled with Germ Off+ Wipes, as both Germ-Off Disinfecting Wipes and Basic-H2 Wipes are replaced by the new product.
An email will be sent confirming shipment of each backorder, with tracking, so please ask customers to be on the lookout for that and thank them in advance for their continued patience.
If you have multiple orders on backorder, you will receive multiple shipments. All backorders will ship as soon as they are processed – no backorders will wait for an order to marry up with.
Thank You Gift
To thank those who have been waiting so long, a gift of a free Germ-Off+ Wipes and Triple Defense Boost will be added to an order of any size that they place within 90 days from 8/25.
A message about the gift will be seen in the Cart as soon as any item is added. The two free products will be gifted to each ID with Germ-Off Disinfecting Wipes on backorder and to each ID with Basic-H2 Wipes on backorder. If you had both Germ-Off and Basic-H2 Wipes on backorder, you will receive two of each free product.
1 On hard, nonporous surfaces
2 SARS-CoV-2
Including SARS-Related Coronavirus 2 (SARS-CoV-2), the cause of COVID-19; Human Norovirus; and Influenza A Virus H1N1