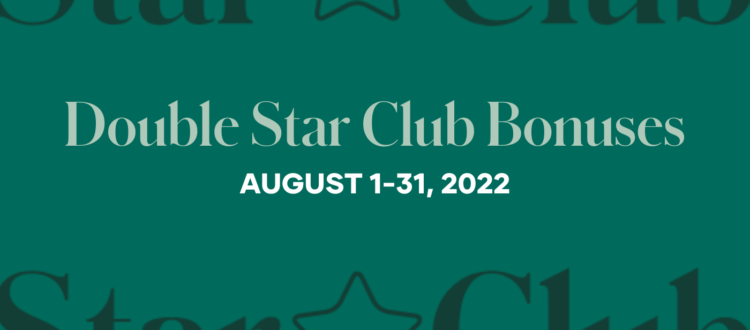 Double Star Club Bonuses in August
Let's make AUGUST AMAZING by sharing Shaklee with as many new people as we can and when you do, you can earn DOUBLE for your efforts!
Earn double Star Club Bonuses every time you help 3 new people get started with Shaklee as a Member or Ambassador (formerly Distributor) with a product order of $150+ in August.
Focus on leading with the Ready Set Wellness Bundle. And for those who aren't interested in Ready Set Wellness…share any mix of products that add up to $150 or more!
Don't wait to get into action! There is no limit to the number of double Star Club Bonuses you can earn in August!
Shaklee will double the standard $75 Star Club Bonus to $150 when you sponsor 3 new people as Members or Ambassadors with a product order of $150 or more in August.
The qualifying join order must be placed between August 1, 2022 at 12:01 a.m. and August 31, 2022 at 11:59 p.m. (PT) and must be $150 or more (excluding taxes, shipping, Membership fees and/or a Business Starter Bundle).
Star Club Bonuses can be earned by a new or existing Ambassador, Associate, or Business Leader. You must be the Original Sponsor (at the time of purchase) of the new Member or Ambassador.
There are no changes to how the doubled Star Club Bonus is paid. Bonuses will continue to be paid daily (Monday through Friday—with a 3 p.m. PT activity cutoff) for earners on Direct Deposit. All other qualifiers will be paid in their monthly Bonus/Commission check.
The Star Club Bonus tracker will continue to show $75 payments when a Star Club Bonus is earned, but the payment you receive will automatically be doubled to $150.
For the complete rules on how to earn a Star Club Bonus, please go to the Star Club page at Star Club Bonuses – Shaklee News & Events.