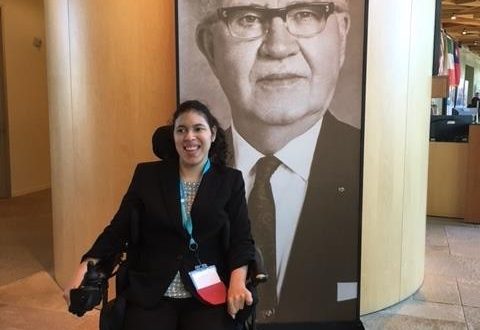 "Shaklee gives me the opportunity to earn an income and have the flexibility that comes with being your own boss."
Tell us a little about yourself


I am 22 years old and recently graduated Summa Cum Laude with an undergraduate degree in Liberal Arts & Sciences from Hofstra University. I earned a double major in English Creative Writing and History as well as a minor in Latin American & Caribbean Studies. In September, I will be attending the University of Washington Bothell to pursue my Masters in Fine Arts in Creative Writing & Poetics at the Interdisciplinary School of Arts & Sciences and have been awarded a full first-year scholarship upon my attendance. "
Wow! You're so accomplished! And you're building a Shaklee business too?


Yes. I joined Shaklee in October 2015 and I became a Shaklee Director in January. My short term goal is to qualify for this year's New Directors Conference in Pleasanton."
How did you learn about Shaklee?


I am the daughter of Shaklee Lifetime Masters Coordinators, Evelyn and Carlos and grew up with Shaklee products in my home. The life I am able to lead, even as an individual with special needs (quadriplegic Cerebral Palsy), is due in large part to the lifestyle that my parents have built with their Shaklee business."
How has being a part of the Shaklee Family impacted you?


Thanks to Shaklee I have enjoyed optimal health and I have had the luxury of having my parents with me for every important moment of life. And I have been able to join them on over 40 Shaklee incentive trips so far. Moreover, Shaklee has given me the privilege of being in a community of like-minded people who value integrity. I am grateful for the Shaklee Family for supporting me and for never making me feel different for having special needs. My own experience makes me confident that Shaklee really is a health and lifestyle vehicle accessible to anyone if they want to take it for themselves."
With all that you've accomplished so far in your academic career, what made you decide to build a Shaklee business?


It was a natural choice for me. Shaklee gives me the opportunity to earn an income and have the flexibility that comes with being your own boss. And I am really committed to building upon the 30+ years of The Shaklee Effect® that my upline Master Coordinators have extended to so many people in our community."
What are you doing to grow your business since you started?


My business is just beginning at this point, but I feel very confident and proud that I have been able to transmit the principle of transforming lives to the members of my team. So far, I have four first-level distributors. My Shaklee business and the Shaklee Effect that I have shared by introducing people to Shaklee has allowed others to feel better, get inspired to work for a better future for themselves, and improve their communities."
Obstacles are inevitable. What do you do to overcome them? 


No matter where you are in your business, always see yourself as larger than you are. For me, this translates into believing and knowing that I am on the road to becoming a Master Coordinator, who empowers others to become Masters as well. When obstacles came, I reminded myself of my "why" and kept working toward my goals, despite the doubts and fears that can come up."
Your business name is Dream on Wheels. How does your business name inform how you approach sharing Shaklee? 


The worst part of living an ordinary life is not having the will or energy to dream. Dreams take us from ordinary to amazing lives, because they help us shape our own realities. I believe that by extending The Shaklee Effect to others we can inspire and empower them to dream and see those dreams realized. So I would encourage others to make your mark on the world and live a life without limits!"