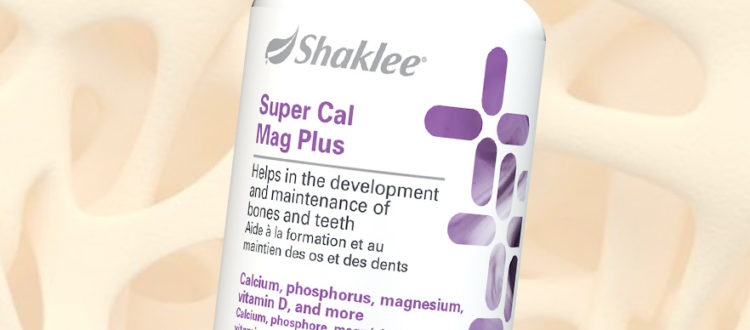 Put a Spring in Your Step
15% off Super Cal Mag Plus: Extended Through April, Available to All!
Consuming bone-building nutrients such as calcium, vitamin D, and magnesium is crucial for optimal bone health. And scientific experts agree that increasing calcium intake can help reduce the risk of the debilitating bone disease osteoporosis.*
VEUILLEZ CLIQUER ICI POUR VOIR CET ARTICLE EN FRANÇAIS
Super Cal Mag Plus is a specially formulated blend of critical nutrients including calcium, vitamin D, magnesium, phosphorus, zinc, copper, and manganese to help build bone density when you're young and minimize bone loss as you age, reducing the risk of osteoporosis later in life.*
It combines three of the best sources of calcium available anywhere: highly concentrated calcium carbonate; highly absorbable calcium citrate; and calcium phosphate, which provides two important minerals for building bones.
It also helps build strong muscles and teeth.
Super Cal Mag Plus:
Four tablets provide 1200 mg of elemental calcium and 350 mg of magnesium
An aqueous film coating makes the tablets easy to swallow
Gluten free and kosher
Offer rules:
Available in Canada only from April 1 at 12:01 a.m. through April 30, 2019 at 11:59 p.m. Eastern Time.
Open to all: guests, Members, Preferred Members, Distributors, Qualified Distributors, Associates, and Business Leaders.
The 15% discount is valid for individual purchases of Super Cal Mag Plus (#57400) prior to taxes and order charges. Not available as part of any pack or kit.
AutoShip orders are included.
Eligible orders must be placed online.
This offer does not apply to orders placed through the Call Centre.
There's no limit to the number you can order.
Valid while supplies last.
*Regular exercise and a healthy diet with supplemental calcium may reduce the risk of osteoporosis, especially in the elderly. Adequate calcium intake is important, but daily intake above 2000 mg is not likely to provide any additional benefits.
PRODUCT RESOURCES
Calcium Product Information Sheet:
English | French
1 + 2 + 3 Personal Health Plan Handout:
English | French
Life Shake™ Product Information Sheet:
English | French
SHAKLEE NUTRITION SOCIAL POSTS
Social posts for use in promoting Shaklee nutrition, with brief copy and using #shakleenutrition.