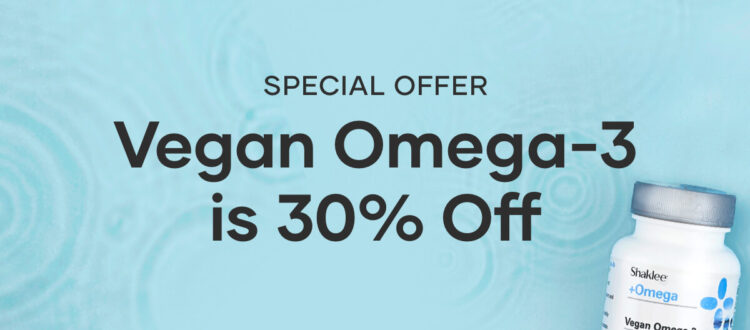 30% Off Vegan Omega | While Supplies Last
While supplies last, we're offering 30% off Vegan Omega-3. This is a great offer to share with existing Vegan Omega customers who want to stock up or any customers interested in vegan products.
This offer is valid in the US starting on from Monday, July 25, 2022 at 12:01 a.m. (PT) and will run only while supplies last.
Open to the entire Shaklee Family, including Guests, Members, Ambassadors, and Business Leaders.
The offer includes 30% off Vegan Omega-3 (#21395). The 30% discount will be automatically applied on all Vegan Omega-3 added to your cart.
No limit to the number of Vegan Omega-3 that are eligible for the discount. Offer good while supplies last.
Loyalty Orders (formerly Autoship orders) are included. Your Loyalty Order must be scheduled to ship during the promotional period to take advantage of the offer.
Eligible orders must be placed online. This offer does not apply to orders placed through the Call Center.
This offer has no cash value.
Shaklee reserves the right to change or cancel this offer at any time.