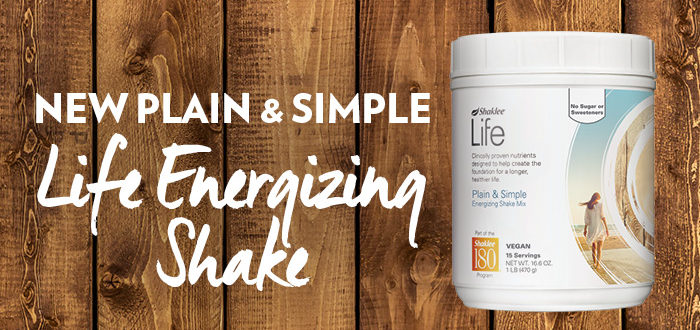 Plain and Simple Life Energizing Shake™
Unflavored.  Unsweetened.  Lower calorie.  And yes, it's vegan, as so many of your customers have requested!  You can add your own flavor and there'll be no competition.  Add the sweetener of your choice – or none at all!  And you can add it to other foods, like yogurt or oatmeal, and use it in baking and some cooked foods, without altering the flavor profile of your tasty dish.  Imagine adding a little extra protein to your pancake batter!
Designed to:
Increase your energy
Help you retain lean muscle and achieve a healthier weight
Provide digestive support from fiber and prebiotics
Packed with:
16 grams of plant-based, non-GMO protein. 24 grams when prepared with 1 cup low-fat soy milk.
Added leucine to help preserve lean muscle and achieve a healthier weight
Omega-3 (ALA), an essential fatty acid that supports heart and brain health
Life Energizing Shake is a delicious, protein-rich meal shake with nutrients clinically proven to help create the foundation for a longer, healthier life. With delicious flavors to choose from, Life Energizing Shakes help keep you feeling full and satisfied.