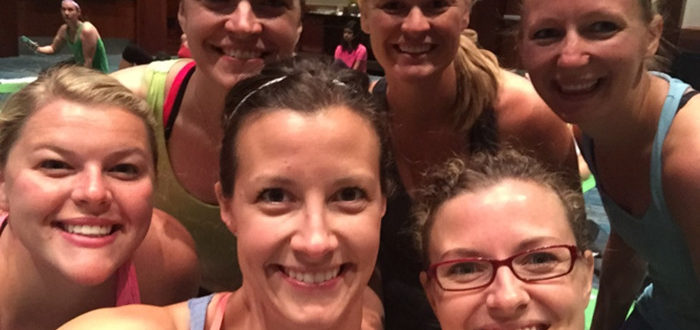 Global Conference Success – Tracy Fixen
Tracy Fixen, Senior Executive Coordinator, ND
"I attended my first Global Conference in 2014 in Long Beach. I will be the first to tell you that I did not want to go! I didn't feel we had the extra money to spend, we already had a family camping trip planned for that weekend, and who was going to help with childcare during the day? I didn't want to make it work but I also was at a point with my business that I wanted to grow! With some convincing from my uplines and a good conversation with my husband, we made the decision that if I am going to be successful in this business, sometimes you need to spend a little money to make money and that we wouldn't really know if I could do this if we didn't fully try. We realized we needed to embrace it and make it happen for me to go. So, I went to Long Beach, almost kicking and screaming.
And then, everything changed. I walked into the conference arena that first day and there was a slideshow playing with pictures Shaklee had pulled off social media. I walked in as one of my selfies on the beach appeared on the big screen. I was walking into something as "just" a Distributor and already being recognized on a big screen. My eyes filled with tears and I knew I was meant to be there. That was just walking into the arena!
The experience of conference itself gave me the confidence I needed to go home and really do this business. I left Long Beach with a goal to bring others with me to the next conference. I was unable to attend the 2015 conference in Cleveland due to pregnancy so that goal had to wait a year, but in 2016 my goal was to fill one hotel room with teammates. I thought if three people came with me, maybe they would have an experience like I did. Five wonderful people joined me in Orlando! It was amazing for our team to connect face to face since everyone lived so far apart. The team got to learn so much and all of them made decisions to grow their businesses bigger and bolder. Since then all five have promoted to various ranks from Associate to Senior Coordinator.
Prior to attending that first conference in 2014, I had three distributors on my team. Today our team has grown to over 65! We all have a million reasons why it wouldn't work for us to go to conference. I would encourage anyone who is serious about building a Shaklee business to make sure they make Global Conference a priority. The speakers, the training, the recognition and the atmosphere will surely inspire you to share the gift of Shaklee with others!"